Programmable load cell amplifier is an intelligent product designed to help the user by bringing ease of Onsite settings. The user has to feed appropriate parameter settings using Keypad and Display provided on the front panel. The S/W controlled self tuning feature of the product takes care of accurate calibration of the unit. Keypad controlled TARE and SPAN setting allows even an inexperienced user to tune the product on site.
Inputs from wide variety of Load-cells having response ranging from 0.5mV/V to 16mV/V are Field configurable. Response time is configurable to suit the application at hand. Analog output (0-10V/4-20mA) is provided. Control outputs (Relays 2 nos.) allow set point control feature. RS-485 MODBUS Communication interface enables remote configuration and data retrieval.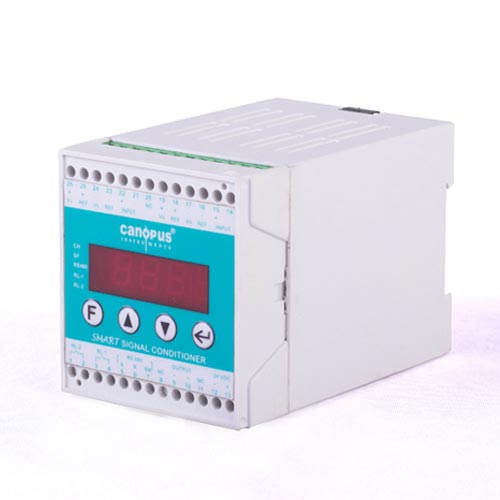 Features
Wide range Strain Gauge Bridge type Load Cells can be interfaced.

Easy Onsite configuration using Keypad and Display (HMI)

RS485 MODBUS communication

Isolated analog Output (0-10V/ 4-20mADC)

Response time Settings of 10 – 80mSec

Control Output Relays (2nos.)

Energy Efficient Design reduces carbon footprint.

Advanced 32 bit Micro-controller based design incorporates software algorithms for signal conditioning.
Technical Specification
Load Cell Interface
Loadcell Response Range : 0.5 mV/V to 16mV/V
Excitation Voltage : 10V, 150mA(max)
Configuration
Field Configuration using Interactive Keypad. Remote TARE Configuration.
Display
Range : ±999 (DP Configurable on-site)
Calibration  : Using  Scale Settings (Keypad)
Accuracy
0.2%  of FS
Response Time of Analog Output
 10,20,30,40,50,60 & 80 mSec.(Settable with Keypad)
Analog  Output
0-10V or 4-20 mA   (Factory selectable) Isolation : 2KV
Relay Output(N) (Max 2)
Solid State Relays ; Contact Rating : 230VAC, 100mA
Communication
Isolated RS-485, Modbus Protocol