CANPIC X.X range of Programmable Process Indicator/Controller products provide the advantage of Multi-range Process Value inputs, which can be configured and calibrated on Field by the user. The product design uses an advanced 32-bit Microcontroller system, which operates at high speed to simultaneously perform multiple tasks of measurement, computation, re-transmission, set point control of measured process parameter, & serial communication interface.
CANPIC X.X products are designed with a modular approach. The basic functionality of Displaying Process Parameters is upgradable with Analog Re-transmission (4-20mA), Multiple Relay Outputs for control & RS485 MODBUS interface. PROFIBUS interface can be added with external H/W.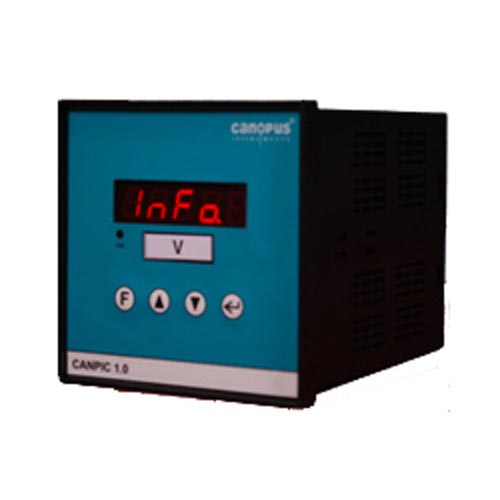 Features
Interactive User interface with Keypad setting of Display Scale & Calibration

Re-transmission Output (4-20mA) with scale settings.

Control Output Relays (Max. 4 nos.)

Serial Communication – RS485 MODBUS, PROFIBUS (ext. H/W)

Applications

Solar Panel FEED System

Industrial automation systems

PLC Monitoring System

Advanced 32 bit Micro-controller based design incorporates software algorithms for signal conditioning.

Process Indicator.

Field Configurable Input Ranges :
V : 0-10V/0-5V/2-10V/±10V/±5V
I : 0-20mA/4-20mA/±10mA/±20mA
Ordering Information
CANPIC X.X SERIES
Supply
Output
Interface
S
O
O
C
CANPIC 1.0
(96 X 96 X 120)CANPIC 1.1
( 96 X 48 X 120)CANPIC 1.2
(72 X 72 X 104)

90 – 270VAC : U

24VDC : D

1

2

3

4

4-20mADC : mA

A :
RS485
(MODBUS)
Note :
e.g. Selectable Input, AC Supply, Two Relays, One Analog Output Modbus Communication. : CANPIC 1.0–U2mAA
When using MODBUS communication, only two Relays are Possible.
Technical Specifications
Accuracy: ± 0.1% of FS; ±2 LSD

Communication: Isolated RS-485, Modbus Protocol

Calibration: Keypad for Offset & Span Setting

Analog Re-transmission: 4-20 mA, Scale Settable; Isolation – 1.5KV

RELAY OUTPUT(N)(MAX 4): N X 3 Contacts.( NO C, NC)

INPUT TYPE: Voltage (VDC): 0-10V, 0-5V, 2-10V,±5V,±10V, Current (mADC): 0-20mA, 4-20mA, ±10mA, ±20mA.

DISPLAY RANGE (OPTIONS) DECIMAL POINT: RED LED 7 Segment 0.4" – 4 Digit + Sign ±1999 & ±9999 Selectable by user
General Specifications
Power Supply
a. 90-270VAC,50-60Hz/ 100-250VDC
b. 24VDC ( Range 18-36VDC)
Enclosure
Panel Mount , ABS plastic
a. 72 X 72 mm; Depth -104 mm
Panel Cutout -68 X 68 mm
b. 48 X 96 mm; Depth -120 mm
Panel Cutout -44 X 92 mm
c. 96 X 96 mm; Depth -120 mm
Panel Cutout -92 X 92 mm
Operating temp. range
0 – 55°C
Storage temp. range
0 – 80°C
Relative Humidity
5 – 95% RH Non-Condensing
Max. Altitude
3000 mts above MSL