Overview
The CAN-ASx series of Alarm Annunciation Systems are offered with several advanced features, which were available with only with high end control systems. The enhanced integrated design using latest 32-bit Micro-controller technology brings the advantage of complex programmability, lower power consumption & improved reliability to the users at reasonable costs.
The user of CAN-AS system has the option of selecting any one out of seven standard Alarm Sequences (Ref. ISA Publication*) using Programmable Sequence configuration. Special option of Multiple sequence selection and window grouping is also provided.
RS485 (MODBUS-RTU) or Ethernet (MODBUS-TCP/IP) communication interface is available for REMOTE monitoring.
The CAN-AS systems are also offered in 4, 8, 12 & 16 windows configurations. ISA Publications Annunciator Sequences & Specifications S18.1 1979 (Revised 1985)
Alarm Annunciation System (Type : Can – ASx)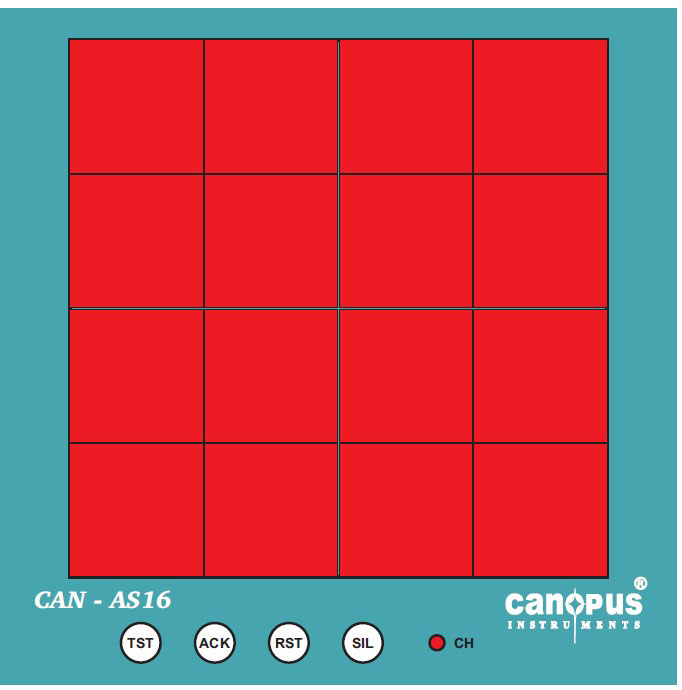 Features
Programmable Sequence Selection. Option of selecting from 7 different Alarm Sequences.

Fully configurable system using Modbus TCP/IP Communication.

Annunciation window grouping option provided for configuration as per user requirement.

Communication options using MODBUS-RTU/ MODBUS-TCP/IP protocols.

Synchronization facility for multiple AS systems in the same control room.

In Synchronization upto 16 CAN-ASx modules can connect to one master module.

In Synchronization upto 16 CAN-ASx modules can connect to one master module.

CAN-AS available in 4-8-12-16 window models.

For Fail safe monitoring – provided System Health Relay (Card Health (CH) Relay)