CAN – FIM – 16 provide ISOLATION between Digital Field inputs & PLC/DCS Modules. The module consists of 16 nos. of Opto isolated input channels, which are wired to the field inputs (Potential Free Contacts).
The 16 Channels are divided into 2 groups of 8 Channels each. A Common Sourcing output (+24 V DC)is provided for each group. This is FUSE protected (100 mA) to avoid damage due to Short Circuit in the Field. Thus in cases of short circuit in any one group of 8 channels, inputs from other group are not affected.
The inputs are isolated using Opto-coupler & 24 VDC Output is generated for the PLC/DCS Inputs when corresponding field contact is closed.
The Channel status is indicted with green LED, which switches ON when corresponding input contacts is closed.
The FIM requires two nos. of 24 VDC power supplies. The Field Side 24 V DC Supply is used to generate the 24 VDC Sourcing voltage for the field inputs.
The PLC side 24 VDC Power supply is used to generate the 24 VDC outputs, which are current limited to 25 mA each. These Outputs can be connected to the PLC/DCS input modules.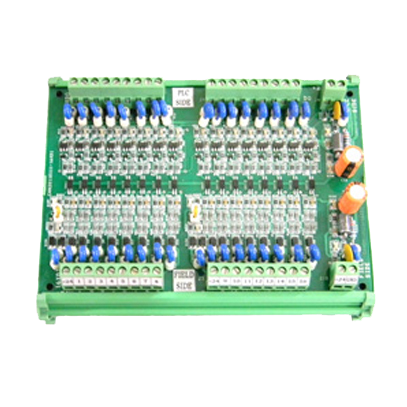 Technical Specifications
Input
16 Channel
24 V Logic from Potential Free Field Contact)
Output
16 Channel (24 V Logic,25mA)
Output Short Circuit Current
30 mADC Max.
Field Side Supply
24 VDC, 0.25 A
PLC Side Supply
24 VDC,0.6A DC
Supply Ripple
< 100 mVp-p
Operating Temperature
0 – 55 Degrees Centigrade
Isolation Test
2 KV between Input & Output Leakage Current < 5 mA
Size
L – 160mm X H – 60mm X W – 125
DIN rail Mounted. ABS Plastic Enclosure with Provision for base mounting if required.
LED Indication
FIELD Side Power Supply
Green LED
FUSE OK
Red LED
FUSE – FAIL
PLC Side Power Supply
Green LED
FUSE OK
Red LED
FUSE – FAIL
Channel Indication
Green LED
OUTPUT OK