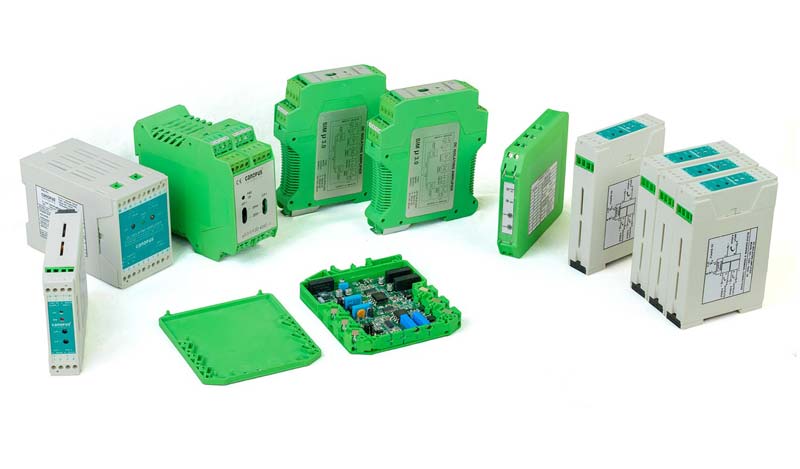 For step by step guide to generating enquiry for Signal Conditioners and Isolators go to product configurator.
Analog Signal Conditioning & Isolation modules find applications where it is of prime importance to ensure reliable performance as well as safety while interfacing input/ output analog signals of sensitive electronic Control & Measurement Systems with field devices such as sensors and actuators. The use of signal conditioners with isolation allows direct interface of far away field mounted devices with analogue I/O channels of DCS, PLC-based Control Systems, AC/DC Electric Drives, Indicators, Recorders, etc.
These modules eliminate occurrences of faulty measurements in process control equipment caused by ground loops. They are also necessary to protect the measuring equipment from noise and transients generated due to inductive load switching and other unpredictable electrical disturbances occurring in the field.
Modules are available which accept DC Voltage, DC Current, RTD & Potentiometer signals from field devices. The input signal is filtered, amplified (if necessary), isolated, & converted into the required output form (0-10V, 0-20mA, 4-20mA, +/-20mA) with minimal internal delay and without loss of accuracy.
Analog Signal Conditioning & Isolation Module designs comply with the requirement of CE standards.
Features
Slim, compact & Aesthetic designs

Single Input -Output : 22.5 mm Width.

Dual & Triple Isolated Outputs: 45mm Width.

Energy Efficient Modules.

Power Consumption < 3 Watts in 24VDC operated modules.

Fast Response options offered in selected types (Tr<1 mSec)

Improved Noise Rejection & long-term stability.

2 KV and 4 KV 3 Port Isolation.

Operating Temp. Range : -10 to +60 Deg C.

Design conforms to the requirements of CE standards.

Your Content Goes HereSingle, Dual & Triple Isolated Outputs available in standard products.
Applications
Data Acquisition System.

PLC / DCS Sysytem

Instrument Control Panel

Process Instrument Panels
DC Voltage: Unipolar / Bipolar, 0 – 75mVDC / 100mVDC….. / 750VDC / 1000VDC

AC Voltage (RMS 50/60 Hz): 0 – 100VAC / 300VAC / 500VAC

AC Current (RMS 50/60 Hz): 0 – 1AAC / 5AAC / 10AAC

Resistance (Potentiometric 3 Wire Connection): 0 – 1KΩ/ 5KΩ / 10KΩ

Frequency (Square Wave): 0 – 1KHz / 10KHz / 100KHz

DC Current: Unipolar / Bipolar: 0 – 1mADC / 5mADC / 10mADC / 20mADC/ 100mADC 4 – 20mADC (2 Wire & 4 Wire)
RTD PT-100 / PT-1000 (2 Wire / 3 Wire Connection)

Thermocouple: Types – J, K, E, B, R, S, T, N With Cold Junction Compensation in built

Load Cell / Strain Guage Sensors

LDVT Sensors

MPU Sensor: Max. Input Frequency 20KHz
Output Type
0 – 1KHz (Square Wave) 0 – 10KHz (Square Wave)
General Specifications
Universal Supply: 90-270VAC, 50/60 Hz OR 100-250VDC

24VDC Supply: 18-36VDCvariation allowed

Response Time Typically: 1 ms

Isolation level: 2KV / 4KV

Single, Dual & Triple Isolated Outputs available in standard products
Declarations of Conformity
Signal Conditioner – 24Vdc Supply
Signal Conditioner – 90 – 270Vac Supply
Signal Conditioners & Isolators Product Configurator