The Load Cell Amplifier is a precision amplifier with In-Built Reference Voltage Source for interfacing with the Strain Gauge Bridge type Load Cells.
The unit provides a highly stable temperature compensated 10V reference voltage source for excitation of the Load Cell. The differential milliVolt (mV) output of the Load Cell is Amplified and Filtered by the unit to provide isolated 0-10V or 4-20mA output linearly proportional to the Load Cell mV signal.
Provision for TARE adjustment is useful in setting 0V (or 4mA) output for No-load condition to compensate for the Dead Weight of the system.
These amplifier units are extremely stable and accurate for long term measurement applications and can also be calibrated to suit the Load Cell response characteristics so that maximum sensitivity is available in the measurement range.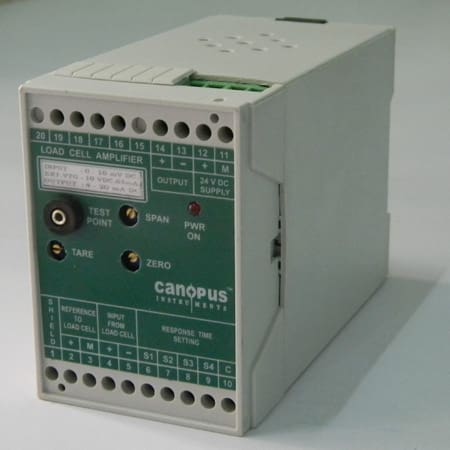 Features
Interfaces with Strain Gauge Bridge type Load Cells.

Built -in Precision, Highly Stable Reference for excitation of Load Cells.

Improved performance.Low peak and RMS noise.

Low drift input circuitry
For long term stability.

35mm DIN rail mounted unit.
Applications
For Weighing & Batching application in industries e.g. Cement, Steel, Chemical & Pharmaceuticals

Tension Monitoring & Control systems in Conveyer based applications

Speed Reference Feedback for Synchronization of AC Drives in Foil printing machinery
Technical Specification
Input Differential I/P signal from Loadcell
Range(mVDC)0-10, 0-16, 0-20,0-30,0-250, or Customized I/P range mVDC
Factory Set
Full Scale O/P Calibration Range.
50% to 100% of I/P range
Input Resistance
1M Ohms
TARE Adjustment Range
±30% of I/P range
Reference Voltage
+10VDC, 60mA Max.
Accuracy
±0.01%
Load Regulation
<0.02%
Temp. coefficient
<10ppm
Output Range
For Voltage
0-10VDC
For Current
4-20mADC
Load Resistance
For Voltage
>1 kOhm
For Current
< 500 Ohm
Performance
Accuracy
±0.2% of Span
Non –Linearity
0.1%
Temp. Drift
<0.01% / °C
Calibration
Tare, Zero & Span (Trimpot)
 Response Time
50 Milliseconds*
Mechanical Specification
| Pin | Details | Pin | Details |
| --- | --- | --- | --- |
| 1 | Shield | 11 | GND |
| 2 | + Reference to Load Cell | 12 | +24VDC |
| 3 | – Reference to Load Cell | 13 | -Output |
| 4 | +Input From Load Cell | 14 | +Output |
| 5 | -Input From Load Cell | 15 | NC |
| 6 | S1(Response Time Setting) | 16 | NC |
| 7 | S2(Response Time Setting) | 17 | NC |
| 8 | S3(Response Time Setting) | 18 | NC |
| 9 | S4(Response Time Setting) | 19 | NC |
| 10 | C(Response Time Setting) | 20 | NC |
Single input & Single output Converter