The Digital Process Indicators are basically DVM's designed to fulfill the requirement of accurate Measurement and display of various electrical parameters in Process Industries. The standard range consists of 3 1/2 digit (Max. count value 1999) & 4 1/2 digit (Max. count value 19999) indicating meters available in 96 X 96 mm and 96 X 48mm Panel mounting type enclosures.The units use Dual Slope integration method for digitizing the analog inputs & offer excellent linearity over the entire range. A temperature compensated reference ensures minimum drift with wide changes in ambient temperatures.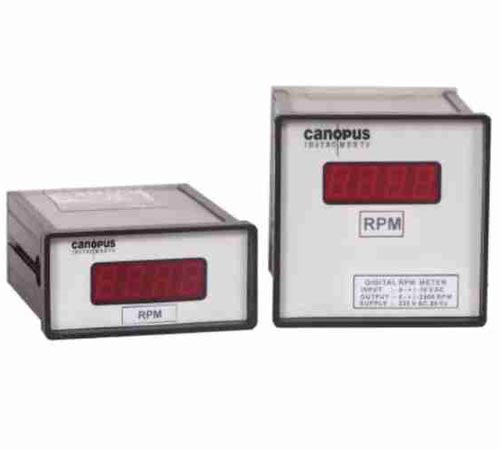 Features
Wide range of input options: DC mA / Volts, AC current / Volts (factory configured).

3 ½ digit (000 to 1999) & 4 ½ digit (0000 to 19999) Display Ranges.

230VAC, 110 VAC, & 24 VDC power supply options available.

Accuracy: +/- 0.1 % +/-2LSD at calibrated ambient temperature of 300C.

ZERO & SPAN trimpots provided on rear side for trimming.

Operating Temp. Range: 0 –55°C

DIN standard Size: 96X48mm & 96X96mm.

Applications

Industrial automation systems.

For Indicating AC/DC voltage & current, speed, temperature, pressure, distance, weight, etc.
Ordering Information
Output Type
Supply
I/P Signal Range
O/P Signal Range
I/P
Supply
X
XX

3 ½ : 3 DPM

4 ½ :4 DPM

230VAC:2A

110VAC:1A

24VDC:2D

0-10VDC:10

XRPM

XKG

X Amp

X Voltage

4-20mADC:42
0-1AAC:01
0-5AAC:05
0-500VAC:500
Technical Specifications
Input Signal: DC: 0- ±10V/ 4-20mA, AC: 0-1A / 0-5A / 0-500V.

Input Impedance: For DC Voltage: 1M Ohm, For DC mA Current: 100 Ohm

Operating Principle: Dual slope Analog to Digital Conversion.

Performance: Accuracy: ±0.1% ±2 LSD, Calibration: Zero & Span (Trimpot)

Output: 3½ Digit 7 segment ½'' RED LED display: Max.Range:1999(To be specified by user), 4½ Digit 7 segment ½'' RED LED display: Max.Range:19999(To be specified by user)
General Specifications
Power Supply: AC Voltage: 240VAC,110VAC, DC Voltage: 24 VDC

Relative Humidity: 0 – 90% RH Non-Condensing

Operating temp. range: 0 – 55°C

Storage temp. range: 0 – 80°C

Enclosure ABS Plastic, 35 mm DIN Rail Mounted. IP40 Protection class: W–55mm H–75mm D–110mm, W–100mm H–75mm D–110mm