Relay interface modules are available in different channel densities viz 1, 2, 4 & 8 channel Relay Interface Module and choice of features such as with / without fuse and with / without relay mounting base.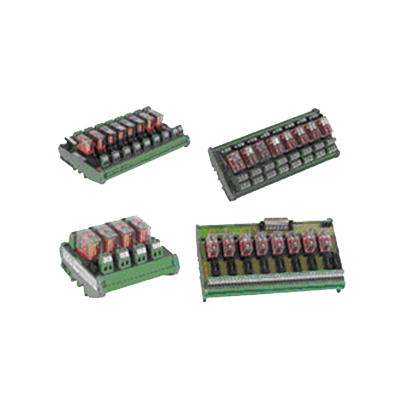 Applications
Interfacing of PLC I/Os to field Sensors & actuators.

Multiplication of PLC O/Ps for separately driving actuators, annunciators & other devices.

Isolation of high voltage load & input devices from sensitive PLC electronics.

Providing channel wise isolation for PLC inputs & outputs.
Benefits
Specially designed boards offered in Phoenix DIN std. Mounting base.

Host of I/O wiring options selectable thru' on-board shorting links reduces the wiring time.

UL certified non-self loosening terminals provide reliable connectivity.

PLC specific Relay Interface Modules with prefab cables facilitates easy & quick I/O wiring and testing. Thus resulting in enormous cost saving in panel assembly & testing.
Type of Relay Interface module
One Change over Relay Interface module.

Two Change over Relay Interface module.

Four Change over Relay Interface module.

Six Change over Relay Interface module.
CANOPUS PLC System cabling is available for PLC's from
Ordering Data
e.g. CAN 8 – 24D – 1 – MB is order code. for 8 channel relay module with one change over, 24VDC coil OMRON relay with base mounting.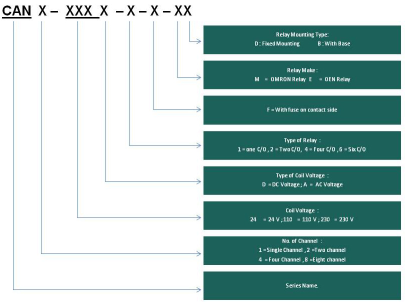 Technical Specifications
1. Relay
Make
O/E/N / OMRON.
Approvals
UL / CSA / VDE.
Contacts
1/2/4 Change over contacts per relay.
Coil voltage
24 V DC / 48VDC/110 V AC / 230 V AC
Min. Pull in voltage = 80 % Max Allowable Voltage = 130 %
2. Terminations
Make
Phoenix / Vital
Approvals
UL / CSA / VDE.
Rating
32 A max. suitable for 2.5 mm cables.
Features
Unbreakable, Non Self Loosening.
3. Indications and Protections
Each relay is provided with LED indication.
All relays have freewheeling diode protection.
4. Enclosure And Mounting
PCB is enclosed in Phoenix Contact DIN Rail mounting profile. The entire assembly is suitable for mounting on 35 mm DIN rail.